Anul acesta Women Tennis Association sărbătorește 40 de ani de la înființare, activitățile care marchează evenimentul fiind variate. Una dintre modalități este trecerea în revistă a celor 40 de ani de activitate. În cadrul acesteia, în 20 august 2013 siteul WTA a publicat un articol dedicat româncelor, titlul fiind: "40 LOVE History: Romanian Renaissance".
"After some sizzling summer results, Sorana Cirstea and Simona Halep are on the verge of breaking into the Top 20 right now. Only three Romanians have broken that elite before – who are they?
There's a very talented crop of young Romanian players on the WTA at the moment, and spearheading the movement are Sorana Cirstea and Simona Halep, who – after some sizzling results this summer – are on the verge of breaking into the Top 20. Who are the three Romanians that broke it before them?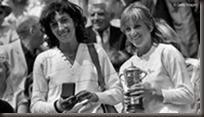 The first to break it – Virginia Ruzici – was arguably the most accomplished Romanian in WTA history. Ruzici won by far more WTA titles than any other Romanian with 12, but perhaps more significantly, one of those titles was the 1978 French Open, making her Romania's only Grand Slam champion.
Ruzici would go as high as No.8 in the world in 1979 and eventually retired from the tour in 1987."
Restul articolului (nesemnat) – în care mai sunt amintite Irina Spârlea, Ruxandra Dragomir Ilie și care se încheie astfel: "Which one of Cirstea and Halep will break the Top 20 first? Will some of the other Romanians – Monica Niculescu, Irina-Camelia Begu, Alexandra Cadantu, Alexandra Dulgheru, Edina Gallovits-Hall and Raluca Olaru, to name a few – follow suit? Only time will tell – watch this space, there's more to come…" – îl puteți citi aici.
Florin Silea
sursă foto: WTA/Getty Images (Virginia Ruzici – în stânga – și Chris Evert)