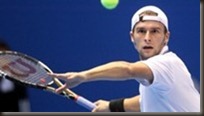 După ce în grupă l-a învins pe argentinianul Guido Pella (22 de ani, cap de serie 7) într-un meci echilibrat, cu două tie-breakuri [4 – 6, 7 – 6 (6), 7 – 6 (5)], românul Adrian Ungur (27 de ani, cap de serie 6 – sursa foto: challengerfinals.com.br) a pierdut finala ATP Challenger Tour Finals desfășurată în nopatea de 1/2 decembrie, la Sao Paolo, în fața aceluiași argentinian. Deși Ungur a reușit câteva mingi care mi-au adus aminte de marii artiști ai tenisului din anii '70 şi '80, până la urmă a cedat după un meci la fel de echilibrat:  6 – 3, 6 – 7 (4), 6 – 7 (4).
Pentru Ungur a fost a 7-a finală de turneu challenger din acest an, însă a câștigat doar una, în timp ce Pella a înregistrat al 4-lea succes, reușind să câștige toate finalele în care a jucat. În semifinale Pella a trecut mai ușor de Victor Hănescu (31 de ani, cap de serie 3): 7 – 6 (3), 6 – 2.
Câștigătorului i-au fost alocați 45000 $ (dacă ar fi fost neînvins în turneu, Pella lua 91000 $) pentru victoria din finală, iar în total a încasat 84900 $, în timp ce pentru victoria din semifinală Ungur a primit 21000 $, iar în total 39900 $.
Pella este citat în siteul ATP cu următoarea declarație: "The match was really special because if I lost I would be out of the Top 100 and I would have to wait until 2013 to see if I could get in. My goal this year was getting closer to this group. I was able to get through that and everything will be different next year. I expect to stay in the Top 100 for a long time.
Beating [Thomaz] Bellucci [in the round robin] gave me a lot of confidence. It was one of the hardest matches I've ever played. Everyone was rooting against me. At the start, I was a little bit nervous, but I managed to win the match. The defeat against Ungur put me down, because it was 7-6 in the third. Anyway, I got the spot in the semi-finals and won the title in the toughest match of my career.
I was attacking pretty well in the first set, but he started serving well and it put me in a lot of trouble. He has one of the best backhands on the tour. I was very nervous. In a certain moment, I told myself that I just couldn't do it. But I fought hard, served better and won the tie-break. I'm really happy."
Florin Silea