Oprah Winfrey Gets Exclusive Interview with Lance Armstrong

FOR IMMEDIATE RELEASE
January 8, 2013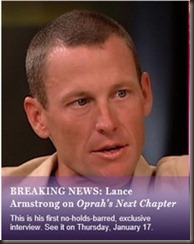 Los Angeles, CA – Oprah Winfrey will speak exclusively with Lance Armstrong in his first no-holds-barred interview. Armstrong will address the alleged doping scandal, years of accusations of cheating, and charges of lying about the use of performance-enhancing drugs throughout his storied cycling career.
The special 90-minute Thursday night episode of Oprah's Next Chapter will air Thursday, January 17 (9:00 – 10:30 p.m. ET/PT – n. silpres: 18 ianuarie, 4:00 – 5:30 în România) on OWN: Oprah Winfrey Network. In addition-the interview will be simultaneously streamed LIVE worldwide on Oprah.com.
In the interview, Winfrey speaks with Armstrong at his home in Austin, Texas in the only interview since the seven-time Tour de France winner was stripped of his titles and dropped from millions of dollars in endorsement deals after the U.S. Anti-Doping Agency released an extensive report accusing the renown cyclist of doping throughout his career. Armstrong was given a lifetime ban on competing professionally. Late last year, Armstrong resigned as chairman of the foundation he created, Livestrong, which has raised hundreds of millions of dollars in the fight against cancer.
About Oprah's Next ChapterOprah's Next Chapter is the primetime series featuring Oprah Winfrey as she steps outside of the studio for riveting, enlightening and in-depth conversations with newsmakers, celebrities, thought leaders and real-life families. Oprah's Next Chapter is produced by Harpo Studios. Join the conversation on Twitter using #NextChapter.
About OWN: Oprah Winfrey Network
A joint venture between Harpo, Inc. and Discovery Communications, OWN: Oprah Winfrey Network is a multi-platform media company designed to entertain, inform and inspire people to live their best lives. OWN debuted on January 1, 2011, on what was the Discovery Health Channel and is in approximately 85 million homes. The venture also includes the award-winning digital platform, Oprah.com. For more information, please visit www.oprah.com/own and www.press.discovery.com/us/own.
Published on January 08, 2013
Read more: http://www.oprah.com/pressroom/Lance-Armstrong-on-Oprahs-Next-Chapter#ixzz2HR29EK9u
Interviul este confirmat personal de Oprah în contul Twitter al lui Lance. În programul OWN încă nu este menționat la această oră (9 ianuarie, ora 3:13 în România) și nici unul dintre siteurile axate pe ciclism nu preluase știrea. Pun prinsoare că și Dumnezeu va fi conectat la Internet pentru a urmări acest interviu așteptat cu viu interes de întregul univers sportiv.
Florin Silea
sursă comunicat și foto: oprah.com