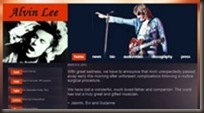 Încă unul dintre marii chitariști, Alvin Lee, a murit. Anunțul publicat în siteul său de către fiica, soția actuală și fosta soție (mama fiicei) nu lămurește cauza exactă a morții, menționând doar că au apărut complicații în timpul unei operații de rutină efectuate în Spania, țara în care locuia britanicul.
Și foștii lui colegi din celebra formație Ten Years After l-au omagiat și i-au deplâns moartea:
"Lyons (n. Silpres – Leo Lyons, ch. bas) called Lee ­«an inspiration for a generation of guitar players».
«He was the closest thing I had to a brother», Lyons told The Times in an email. «We had our differences but we shared so many great experiences together that nothing can take away»."
"Lee was «a real leader of men», Churchill (n. Silpres – Chick Churchill, clape) said in a separate email. «When I first saw him play it became my ambition to play with him»."
Microbul bluesului l-a prins de la tatăl său, care nu era muzician, ci constructor, însă colecționa înregistrări de jazz și blues. Declicul s-a produs însă la vârsta de 12 ani, când la ei acasă a venit chitaristul american de blues Big Bill Broonzy. Atunci micul Alvin s-a decis să abandoneze clarinetul în favoarea chitarei, iar la 13 ani susținea deja concerte ca profesionist, într-un cinematograf.
Graham Alvin Barnes (cum se numea) a fost născut în 19 decembrie 1944 și a murit în 6 martie 2013. Pentru sfârșitul acestei luni avea programat un concert (la care s-au vândut toate biletele) în Paris și avea în plan un albumul de blues realizat cu muzicieni din SUA.
Florin Silea