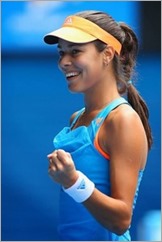 Drumul către titlul de la Australian Open a devenit mai ușor pentru Simona Halep (evident, condiția necesară, dar nu și suficientă este să ajungă în finală ca să-l poată câștiga) deoarece fostul lider mondial Ana Ivanovic a reușit s-o elimine pe favorita Serena Williams, actual lider mondial, cu 4-6 6-2 6-3 după un meci aprig disputat, în care jocul Serenei s-a dereglat după primul set.
La sfârșitul meciului Ana și-a pus mâinile pe cap, iar antrenorul și (presupun) preparatorul fizic s-au îmbrățișat și și-au ciocnit de mai multe ori capetele! Ca răspuns la mesajul publicat de WTA: "Ajde! @AnaIvanovic stuns World No.1 Serena Williams 46 63 63 for @AustralianOpen QF spot! #AusOpen #tennis pic.twitter.com/RY1rTkJ9s6", Ana a răspuns în contul Facebook: "Ajde indeed!! Thanks so much for your support :)))) So happy".
Update 
S-a lămurit și ce s-a întâmplat cu Serena. Potrivit BBC, care o citează, de vină ar fi o durere la spate: «"I almost pulled out. I'm such a competitor, I probably should have," said the world number one.
"I don't want to blame anything. I feel like Ana deserves all the credit. I feel she played unbelievable today. I think she went for her shots."
Williams revealed that she did not know the exact nature of her injury but had been dealing with it for "a few days".
She added: "It's not anything that's life threatening or anything. I feel like it will get better. I just need a couple days off."»
Florin Silea
sursă foto: WTA/facebook.com/anaivanovic