Am auzit că Antena 1 și Antena 3 au luat împreună 7 medalii, dintre care: 3 de aur, 3 de argint și 1 de bronz, alte 3 emisiuni primind certificat de finalist, la nu știu ce paranghelie mondială, premierea ținându-se în Las Vegas. Chestia respectivă se numește New York Festivals® International Television & Film Awards™ și este la a 57-a ediție. Felicitări!
De ce s-a ținut în Las Vegas? Iete, d'aia, ca să le fie cazinoul aproape! Asta e varianta mea. Organizatorii au fost mai prozaici: "This is the fourth year that New York Festivals award ceremony, honoring the World's Best TV & Films™, will be held at the annual NAB Show as they play host to over 95,000 attendees from 156 countries." NAB Show este, potrivit Wikipedia, târgul Asociației Naționale a Difuzorilor (National Association of Broadcasters). Evenimentul se desfășoară anual în Las Vegas Convention Center, prima ediție fiind în 1923!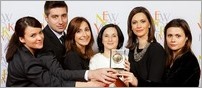 De ce să moară Mircea Badea de ciudă? Nu pentru că l-au scos organizatorii la produs, alături de Mihai Gâdea, cei doi fiind puși să prezinte o secțiune de premiere (potrivit anunțului oficial: "Presenters taking center stage include: Chris Brown, Executive Vice President of NAB Conventions and Business Operations; Mihai Gadea, CEO, Antena 3 Romania and host of the most watched talk show in Romania, Mircea Badea, Anchor, Antena 3, one of Romania's most famous national TV personalities; Aela Callan, Broadcast Journalist, Al Jazeera English; Jodain Massad, Director of Production, KC Chiefs; Roni Selig, Senior Executive Producer/Director Health, Wellness and Medical Unit, CNN; and South Pacific Pictures "The Blue Rose" lead actresses, Antonia Prebble, Siobhan Marshall, and actor Raj Varna."), ci fiindcă Badea susține – ca mine – că nu mai sunt jurnaliști. Ei, uite că au mai rămas câțiva! Cinste lor!
Ce ziceți, Băsescu, Antonescu? Hai, măi, aici discutăm despre oameni de valoare! Iar mie nici nu-mi place să dau în cineva căzut fiindcă n-am nici o satisfacție în muncă.
Florin Silea
sursă foto: New York Festivals