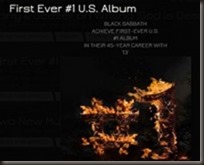 Legendara trupă Black Sabbath a reușit pentru prima dată în existența de 45 de ani să ajungă pe locul 1 în Billboard 200, topul albumelor cunoscutei reviste de muzică de peste Ocean. Deși se numește "13", este al 19-lea album de studiou al formației britanice, iar cu o săptămână înainte ajunsese pe locul 1 și în Anglia, însă acum a picat pe 2. În prima săptămână de la lansarea în SUA s-au vândut 150000 de bucăți, potrivit Nielsen SoundScan.
Vedetele formației, liderul Tony Iommi și Ozzy Osbourne, au fost entuziasmate la aflarea veștii, care le-a uimit: "The news is absolutely amazing – we couldn't have imagined this would happen. We have the greatest fans", a spus chitaristul Iommi, iar vocalul vocal Ozzy a completat: "There have been so many amazing highlights in our long career. To finally have our first #1 album in the U.S. is another incredible milestone for Black Sabbath. Thank you to all of our fans for their support and loyalty." Al treilea membru important al formației, basistul Geezer Butler, a fost la fel de surprins: "I'm absolutely stunned. Thank you all world wide for being the best, and most patient, fans ever." 
După primul turneu făcut în Australia și Noua Zeelandă după 40 de ani, Sabbath va promova noul album și în SUA, printr-un turneu ce va cuprinde 20 de localități, prevăzut să înceapă în 25 iulie și să se încheie în 3 septembrie, iar din noiembrie până hăt în decembrie va colinda Europa. Însă nu cu bateristul cu care au colaborat în studiou: "Brad Wilk (Rage Against The Machine) on such epic songs like "God Is Dead?" (the album's first hit single) and "End of the Beginning" (the new single)" (cum se menționează în siteul formației), ci cu Tommy Clufetos (din trupa lui Ozzy, care a colaborat cu Ted Nugent și Alice Cooper, între alții), iar la clape este Wakeman, nu tatăl, Rick, ci fiul, nu Oliver, ci Adam, mezinul. N-a ajuns el chiar în Yes, ci doar a cântat cu doi "Yesmen", tac-su și frati-su, dar și cu Annie Lennox, între alții. Și el vine tot din trupa lui Ozzy.
Florin Silea
sursă foto: blacksabbath.com
P.S. Titlul știrii l-am pus înainte de a-l citi pe cel din siteul formației: ""13" is proving to be a lucky number for BLACK SABBATH".