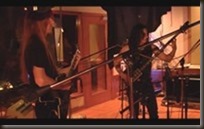 Anul viitor se împlinește un sfert de secol de la lansarea albumului "Kings Of Metal", ocazie cu care Manowar pregătește mai multe evenimente. Primul, la care lucrează acum în studiou, este reînregistrarea albumului. Potrivit basistului Joey DeMaio: "The new rendition will honor the original as it's inspiration, but with additional energy, fully utilizing the power of today's technology and 25 years of experience, and it will contain new arrangements and changes that incorporate live performance elements added over the years. The album will feature additional bonus material and many other surprises".
La "The Warrior's Prayer" vor colabora cu actorul britanic Brian Blessed, despre care se menționează în anunțul dat de Magic Circles Music (firma fondată de Joey DeMaio pentru impresarierea Manowar și altor artiști și formații) : "Mr. Blessed is a renowned Shakespeare and character actor who has starred, among others, in Kenneth Brannagh's, "Henry V", "Much Ado About Nothing", "King Lear" and Oliver Stone's, "Alexander." Brian also has an affinity with heavy metal music. In June 2013 he received the "Spirit of Hammer Award" at Metal Hammer UK's Golden Gods Awards."
La album vor contribui și chitarisul Karl Logan și bateristul Donnie Hamzik, care au avut până acum posibilitatea să cânte doar în concerte piese de pe acest album.
De asemenea, vor fi date publicității filmări video, fotografii și interviuri din culise precum și-o incursiune în istoria formației și a perioadei în care a fost realizat albumul inițial.
Albumul este prevăzut să apară la sfârșitul anului și va fi urmat de un turneu de prezentare într-o "completely new stage production".
Florin Silea
sursă foto: Magic Circle Music