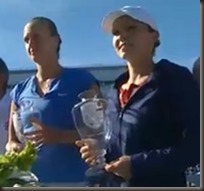 Oau! Dacă eu nu eram convins că va câștiga atât de ușor finala de la New Haven, Simona Halep (în dreapta fotografiei) a mărturisit că ea nu era chiar convinsă că va câștiga. Însă până la urmă doar primele două gameuri ale meciului s-au dovedit mai dificile pentru Simona, până i-a trecut tracul. De-acolo-ncolo a fost aproape o formalitate, ajutată fiind atât de jocul său, cât și de greșelile făcute de Kvitova (în stânga fotografiei), obligată să joace cu mingi la limită și să încerce lovituri câștigătoare.
Nu-mi aduc aminte să mai fi văzut un meci în care un game să fie câștigat numai cu al doilea serviciu, cum a făcut Halep în setul 2, când într-unul dintre gameuri Halep n-a avut nici un prim serviciu reușit, însă la al doilea Kvitova i-a returnat mingile în fileu.
Îmbucurător este și faptul că Simona n-a avut decât vreo 5 greșeli neprovocate, în timp ce Petra avea la un moment dat 20. De asemenea, românca a avut doar o dublă greșeală, cehoaica făcând 3, dar a dat și doi ași, Simona având doar unul, însă cel care a încheiat turneul! De altfel, serviciul i-a funcționat bine: 78% procentajul de reușită la primul serviciu și 81% procentajul la punctele câștigate cu primul serviciu, iar la al doilea serviciu a avut procentaj de 81% la punctele realizate.
Desigur că felicitări pentru acest succes și pentru anul foarte bun al Simonei merită și antrenorul ei, Adrian Mlende, căruia Simona i-a mulțumit în speechul de la premiere,  care a coborât doar o dată la banca Simonei în această finală.
Siteul WTA a scris următoarele despre meci: "Simona Halep found the perfect balance between consistency and aggression in the final of the New Haven Open at Yale on Sunday, beating Petra Kvitova for her first Premier title.
Halep was in some trouble early on in the match, facing double break point serving at 1-2, 15-40. But she got out of that and ended up reeling off nine games in a row from there for a 62 40 lead, never really looking back and closing out the No.4-seeded Kvitova with her only ace of the match, 62 62.
The numbers for the match said it all, with Halep tightening the screws and hitting 14 winners to just 6 unforced errors and Kvitova struggling for consistency with 13 winners and 25 unforced errors.
Halep has now won 29 of her last 34 WTA main draw-level matches, capturing all four of her WTA titles in that stretch, having won International-level titles at Nürnberg, 's-Hertogenbosch and Budapest.
Also, Halep's win over Kvitova was her fifth Top 10 win, having beaten Li Na in 2011 and Agnieszka Radwanska, Marion Bartoli and Caroline Wozniacki already this year. And to top that off, with this result she is projected to break the Top 20 for the first time on the new rankings, making her the fourth Romanian ever in the Top 20 after Virginia Ruzici, Irina Spirlea and Ruxandra Dragomir-Ilie."
Date fiind toate cele de sus, se admite licența "poetică" "asă".
Florin Silea
sursă foto: captură de ecran