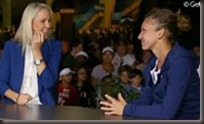 După semifinala câștigată cu Wozniacki, Simona Halep (în dreapta fotografiei, în stânga – Rennae Stubbs), citată în siteul WTA, a declarat într-o emisiune TV: "I'm really, really happy that I won this match because I was nervous before the match – she's a top player. But I played really well. I started the match really well. She was playing good tennis but so was I, and we were just trying to do a nice match today because it was the semifinals.
I have a lot of confidence right now. This has been a good period for me. I've been playing really well and feeling the game really well, and I'm enjoying myself on the court much more than I was before. I'm just trying to play my best every time I'm out there, which is very important."
Despre meciul cu Kvitova jucătoarea română crede că: "I know she hits the ball very strong, but I haven't seen her play too much, so I will see tomorrow. I will just try to stay calm. It's important to play relaxed because it's a final."
De cealaltă parte, Caroline a explicat de ce-a pierdut: "She takes the ball really early. She forced me to play some shots that I didn't want to play today. I tried to change my game up a little bit and tried to go for a little bit more, but today just wasn't my day. But she played really well. She definitely did. I felt like I made a few more unforced errors than I usually do, but I have to say it was because of her game and her level of play out there.
It's a very empty feeling in a way because I've been so used to winning here, and I love winning. It's been so much fun, but then today I didn't win. So obviously it's a bit disappointing. At the same time, I've had a great run here for so many years now. As we've said, six years – time's really flying."
Finala dintre Halep și Kvitova va începe în jurul orei 22:00.
Florin Silea
sursă foto: WTA/Getty Images