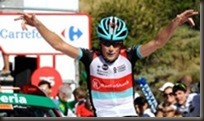 Acesta este mesajul pe care celebrul antrenor de ciclism Johan Bruyneel l-a scris în contul său Twitter după ce fost său elev, Chris Horner, a câștigat cu "focuri de artificii" etapa a 10-a (Torredelcampo / Güéjar Sierra. Alto Hazallanas) din Turul Spaniei, venind cu 48 de secunde (pe șosea, fără bonificația de 10 secunde pentru locul I) în fața câștigătorului Il Giro din acest an, Vincenzo Nibali, și cu peste 2 minute față de fostul deținător al Tricoului Roșu, Daniel Moreno, și a preluat conducerea în clasamentul general cu un avans de 52'' față de italian și cu 1:08 față de spaniolul Alejandro Valverde. Acum, probabil, toată lumea va face ceea ce noi am făcut de la bun început: am luat de bună declarația "Hornarului", că a venit să câștige Vuelta. De altfel, când americanul a plecat din grupul favoriților la clasamentul general, același Bruyneel a scris în contul Twitter: "GOOOOO HOANA!!!! @hornerakg – go get that jersey!"
Poate vor fi unii care cred că a fost o răbufnire de orgoliu a americanului fiindcă nimeni nu-l consideră favorit, după cum a declarat pentru VeloNews: "This is always what happens. In the press, on TV, I am not a favorite. But in the race, no one lets me go anywhere.
I have a leash on me that's as tight as any of the favorites. That's why it's difficult for me to win stages, to get away, to get a gap, because everyone knows that if they give me a gap, I am going to go, and then they're going to have a problem bringing me back."
Eu nu cred că este vorba despre așa ceva, tot bazându-mă pe declarațiile lui. Înainte de pornirea în etapă, Horner, potrivit Cyclingnews, a spus: "The first climb (Alto de Monachil) is hard and the second one (Alto de Hazallanas) is very hard. I've never seen any of them but that's my understanding.
Yesterday's extremely hard finish might have some consequences today. A lot of guys will be very tired. Having Dani Moreno leading the classification modifies the situation a little bit but firstly for Katusha. They have to decide who the leader is. It can become complicated for them if they don't have any team-mate left."
Înainte de începerea, sâmbătă, a celor trei etape de cățărări dure, Horner a anticipat că vor fi "focuri de artificii", el fiind și mai clar într-o declarație pentru VeloNews: "What do you think? I am sitting second in the Vuelta, I've won a stage, and I've worn the leader's jersey. I expect to put on a show." Și a dovedit-o, reușind să-și doboare vechiul record de cel mai vârstnic ciclist învingător într-o etapă de mare tur și lider în clasamentul general. Acuma are două victorii, ambele în ediția din acest an a Vueltei, plus Tricoul Cățărătorilor.
Ce spune mult mai tânărul său coleg Matthew Busche (americanii lui îl pronunță Bușe, nu Buș): "The first week is going great. We will keep riding until we cannot ride anymore. He believes in himself, so we believe in him. We will see what happens.", iar veteranul Haimar Zubeldia (36 de ani) completează: "Chris is a real character. At 41, he's an example for all us. For me, he gives me motivation to keep racing. He's not the only one. [Jens] Voigt is there as well. It's to tip your hat to them."
"Fuckian" Cancellara nu știu dacă a declarat ceva, însă se pare că și-a luat în serios porecla dată de noi, Fabian ducând, din nou, trena suficient de tare și de mult cât să scape de o bună parte din pluton și să-i pregătească drumul spre victorie lui Chris.
Florin Silea
sursă foto: lavuelta.com