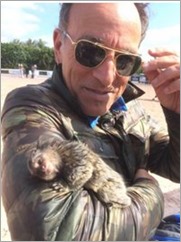 În 4 iunie 2014 s-au împlinit 30 de ani de la lansarea megahitului Born in the USA, ocazie pentru Chris Willman să scrie pentru Yahoo Music un articol în care a rezentat istoria acestui cântec pe care, probabil, și nord-coreeni îl cântă sotto voce în baie.
Piesa "s-a născut" în bucătăria lui Bruce Springsteen (în foto cu un "fan" pe mânecă – pare a fi un leneș; titlul fotografiei, făcute în 14 martie 2014, este "More Animals!", iar la adresa de aici găsiți mai multe fotografii simpatice cu "bestia" care-l asaltează în diverse moduri pe Springsteen), pe vremea când încă nu era The Boss, în 1981, și era un cântec folk despre un veteran care s-a întors din Vietnam, titlul fiind chiar Vietnam, iar refrenul nu era "Born in the USA", ci unul tragic: "You died in Vietnam".
Cum s-a ajuns de la un cântec trist la unul mobilizator, disputat atât de republicani, cât și de democrați în alegerile prezidențiale din 1984 și cântat de fiecare 4 Iulie? Prin mai multe jocuri ale întâmplării.
Springsteen a primit un scenariu de la scenaristul și regizorul Paul Schrader, care spera să-l atragă în filmul pe care-l pregătea,… Born in the USA. Springsteen n-avea însă intenția să-i facă concurență lui Tom Cuise, așa că a refuzat. Însă s-a apucat să fredoneze "Born in the USA" în loc de "You died in Vietnam" (bateristul Bart Hanes, din prima lui formație, The Castiles, a murit în Vietnam) și i-a oferit regizorului un cântec pentru film: "Just Around the Corner to the Light of Day", iar Schrader a schimbat titlul inițial al filmului în Light of Day, iar în locul lui Springsteen a jucat Michael J. Fox.
Bruce a trimis noul cântec producătorului Jon Landau, de la care a primit un nțț! categoric. El și-a justificat decizia astfel: "To me it was a dead song. It was one of the lesser songs on the Nebraska (n. silpres.info – albumul acustic scos de Springsteen în 1982) tape. Clearly the words and music didn't go together."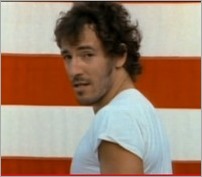 În tot răul și-un bine. Cântecul n-a intrat pe Nebraska, dar a fost cântat în variantă rock cu formația lui The Boss, E Street Band, când Bruce a intenționat să transforme Nebraska din album acustic într-unul amplificat electric. Varianta rock (înregistrată în 3 mai 1982) a ajuns pe albumul Born in the USA, scos la 2 ani după Nebraska, în 1984. Același Landau își amintește acea zi: "For everybody there, I know, to this day it was the most exciting thing that ever happened in a recording studio".
Acum nu e clar dacă varianta de pe album e a doua înregistrată – cum zice Springsteen – sau a 6-a din 8 înregistrate, cum susține inginerul-șef Toby Scott, care a declarat pentru Sound on Sound: "I remember listening to it and going, «Wow!» Right from the start, the snare drum was exploding, and you have to remember this was 1982, when we were in the middle of disco-land there in New York. There were no exploding snare drums in New York — there were no exploding snare drums anywhere — and then, what with Danny's synthesizer playing that grand intro, the song was just cracking away and I turned to Chuck Plotkin and Jon Landau and said, «I don't know whether it's Bruce, but man, it sounds good to me!»… When the band members came into the control room after the first couple of takes and heard the track, they too were going, «My God, we've never heard anything like this before!» It was totally, revolutionarily different-sounding to anything else at that time."
Willman tinde să meargă pe memoria inginerului de sunet în ceea ce privește numărul înregistrării.
Ce părere are The Boss despre creația lui? "I knew that that particular song was just a song that comes along once in a while, even if you write good songs. It had some power to it that seemed to speak to something that was so essential, similar to the way that «Born to Run» did. It's not that you have better songs or worse songs, but that's a particular type of song."
Apropo de perioada aceea cu nebunia Born in the USA (cel puțin la MTV, dacă nu era Dire Straits cu Money for Nothing sau Brothers in Arms ori A-HA cu Take on Me, sau vreun cântec Yazoo ori ceva cu AC/DC și, evident, Bon Jovi Whitesnake și Van Halen, sigur dădeai peste Born in the USA! – oau, ce muzică dădea atunci MTV, nu căcaturile de-acum!), nu mai știu la ce post de radio am auzit că la un concert în SUA al lui Bruce Springsteen mulți au venit cu corturile, cu 5 zile înainte, ca să prindă bilet!
Tot în acea perioadă, The Boss a decis să mute concertele din săli în stadioane, fiind de părere că: "In the end it was a variety of things that kinda threw the argument in one direction, but my feeling was that I'd created an opportunity for myself, and why cross the desert and not climb the mountain?"
Și apropo de fotografia din deschidere, tot una auzită la radio în acea perioadă. Și pe vremea aceea Springsteen umbla tot în blugi și cu tricou sau cămașă în carouri. La un moment dat, trecând prin fața unei clădiri, se intersectează cu o cucoană mai în vârstă, care cobora din clădire cu un câine. I se face milă de "nevoiaș" și ca să-l ajute îi face o ofertă de nerefuzat: îl plătește (suma n-a fost precizată de către cel care a povestit întâmplarea) dacă-i plimbă câinele! Ce credeți c-a făcut Bruce? Exact, i-a plimbat câinele! Nu știu dacă a luat și banii fiindcă cine a povestit n-a spus.
Florin Silea
surse foto: brucespringsteen.net
VEVO – captură de ecran din videoclipul Born in the USA