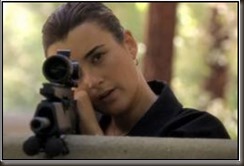 Dramă în echipa NCIS: Ziva, agenta mosadistă, va dispărea, spre disperarea nu doar a fanilor, ci și a conducerii CBS, rețeaua TV care produce longevivul serial.
Sezonul al 11-lea va fi primul fără Ziva, care juca în serial de 8 ani.
Cote de Pablo, actrița care o interpretează, n-are însă legături cu Israelul, ea fiind chiliană de "meserie". Însă e mai hotărâtă nu doar decât partidul, ci și decât Mosadul. Potrivit tvline.com, în 10 iulie, cu o săptămână înainte de începerea filmărilor la noul sezon, ea a anunțat că: "I've had eight great years with NCIS and Ziva David. I have huge respect and affection for Mark [Harmon], Gary [Glasberg], Michael [Weatherly], David [McCallum], Rocky [Carroll], Pauley [Perrette], Brian [Dietzen], Sean [Murray], all of the team and CBS. I look forward to finishing Ziva's story."
Fanii au intrat în fibrilație și unul dintre ei a făcut chiar o petiție în Internet, prin care cerea conducerii CBS s-o aducă înapoi. Până în 29 aprilie 12500 de persoane semnaseră petiția respectivă.
Oricum, se pare că a fost superfluu fiindcă și conducerea rețelei TV dorea același lucru. Tot potrivit tvline.com, Lee Moonves în persoană, președintele CBS Corp., a avut o declarație publică pentru a lămuri lucrurile: "I really want to clarify: We offered Cote de Pablo a lot of money — and then we offered her even more money. We really didn't want to lose her, we love her. We think she's terrific. We obviously were in discussions… and ultimately she decided she didn't want to do the show. It was her decision. We don't like losing anybody. We did everything humanly possible [and] exhausted every opportunity, and she just decided she didn't want to do the show."
Dacă presupunerile inițiale erau că Ziva, ca orice agent secret care se respectă, va fi omorâtă, se pare că, totuși, "nu va fi eliminată definitiv", susține tvonline, care a publicat următoarele: "Former Mossad agent turned NCIS Special Agent Ziva David leaves the team in an emotional episode. Several unexpected twists will occur related to the personal lives of Palmer, McGee and Vance, and the team will face one of the most dangerous adversary's they've ever encountered. Also, this season the series will mark its 250th episode." Yahoo!
Pentru că impresia inițială a fost că banii au produs despărțirea, să vedem ce salarii au unii dintre actorii serialului, conform Yahoo!: "In 2011, de Pablo lobbied for a pay raise and was bumped up to $120,000 per episode, putting her on par with female co-star Pauley Perrette.
Then again, Perrette and Michael Weatherly got raises to $175,000 an episode last year. And star Mark Harmon got a massive increase, according to Deadline, going from $500,000 to $700,000 per episode."
Potrivit aceliuași site, sezonul trecut audiența medie pe episod a fost în SUA de 22 de milioane de telespectatori, reușind să depășească chiar și Sunday Night Football, devenind cel mai urmărit serial.
Florin Silea
sursă foto: loveedelric.deviantart.com